Zigong Chinese Lantern World for the sixth time on the top ten national hot scenic spots!
According to the report on Spring Festival Travel in the Year of the Tiger 2022, Zigong has been ranked among the top 10 popular tourist destinations in China during the Spring Festival Golden Week. Zigong · China Lantern World has been ranked among the top 10 popular scenic spots in China for the sixth time, following last year's Tomb-sweeping Day, May Day, Dragon Boat Festival, National Day and This year's New Year's Day.
During the Spring Festival, Zigong Da 'an District received a total of 1.213 million tourists, realizing a total revenue of 673 million yuan, among which Zigong Dinosaur Museum received more than 93,000 tourists, a year-on-year increase of 92.60%, ticket revenue of 2.30.463 million yuan, a year-on-year increase of 113.41%, China Lantern World scenic spot received tourists through 20075 million people, in fact With ticket revenue of 24.7842 million yuan, the scenic spot has been selected as the "second spot" during the Spring Festival.

During this year's Spring Festival, the Lantern Festival served as the "atmosphere group" for Spring Festival night trips, and the search heat in this holiday exceeded 200% compared to the same period last year. Zigong, China lantern world in combination with the naked eye 3 d, AR, performing arts and interaction, etc.,  become one of the hottest scenic area during the Spring Festival, also let stand out from the city of zigong, one of the top ten in the popular domestic travel destination, once again topped the CCTV "news broadcast".
"Salt Street Light Market", the World's national style long Street lights will be permanently decorated. 2020, oct to China's mining design agency China don, based on the "salt culture" origin of zigong, through the outline salt lamps city and prosperous and microcosm, salt river shipping will be the most prosperous moment in the history of zigong, into a magnificent light city in the prosperous time picture scroll, to build the national style landmarks, immersive strip market - salt lamps city.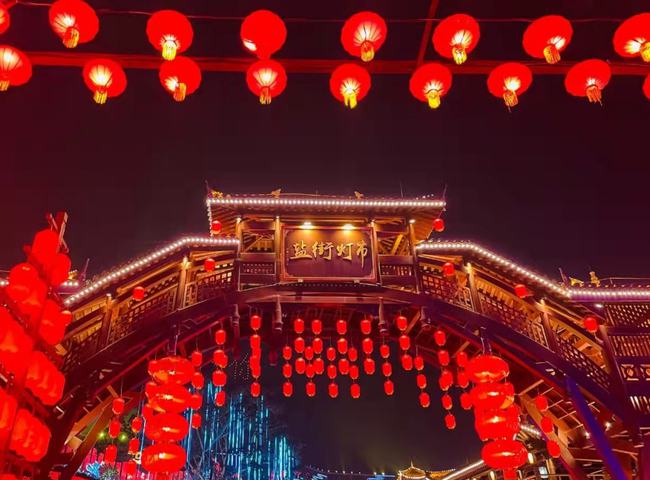 Here not only has a colourful lights the world, but also upgraded the interactive experience, implanted into a variety of new technology and new materials to build immersed night scene, fusion context, salt food, the performance, feature and interactive entertainment content, such as innovation building submerged scene, will lead the tourists enjoy a feast to night lights to the extreme.
---
Post time: Feb-14-2022