Lifelike Ice cave modeling other amusement park products for outdoor decoration
 MORE INFORMATION
Input

AC 110/220V ,50-60HZ

Plug

Euro plug / British Standard / SAA / C-UL / or depends on request

Control mode

Automatic / Infrared / remote / coin / Button / Voice / Touch /

Temperature / shooting etc.

Waterproofing grade

IP66

Working condition

Sunshine, rain, seaside, 0~50℃(32℉~82℉)

Optional function

Sound can be increased to 128 kinds

Smoke,/ water. / bleed / smell / change color / change lights / LED screen etc

interactive(Location tracking) / conversine(currently only Chinese)
AFTER-SALE SERVICE
Service

Need be cut for shipping,fwill provide a detailed installation manual.

Warranty

We provide 2 years warranty for all of our antrimatronic models,

the warranty pieriod starts

from freight arrives at destination port. Our warranty covers motor,

reducer, control box, etc.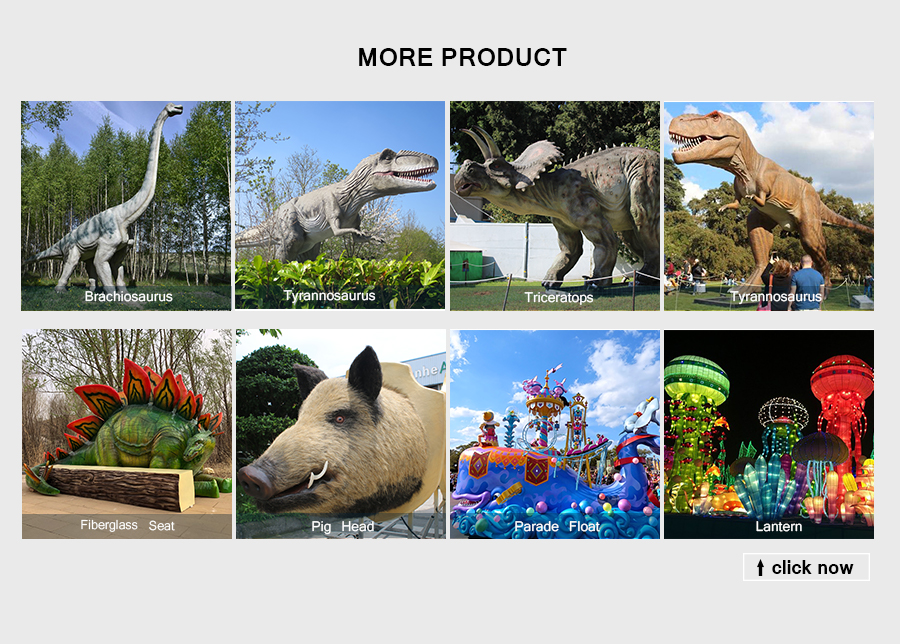 animal's cave   fiberglass ice cave   theme park decoration    
gate decoration  life size statues fiberglass  simulation life size statues fiberglass  outdoor playground decor  fiberglass decoration  fiberglass theme park decoration  ice cave modeling  lifelike ice cave  fiberglass outdoor product  custom fiberglass ice cave   other amusement park props  waterproof fiberglass ice cave  outdoor playground decoration props  real ice cave  
Fiberglass (American English), or fibreglass (Commonwealth English) is a common type of fiber-reinforced plastic using glass fiber. The fibers may be randomly arranged, flattened into a sheet (called a chopped strand mat), or woven into glass cloth. The plastic matrix may be a thermoset polymer matrix—most often based on thermosetting polymers such as epoxy, polyester resin, or vinyl ester resin—or a thermoplastic.
Cheaper and more flexible than carbon fiber, it is stronger than many metals by weight, is non-magnetic, non-conductive, transparent to electromagnetic radiation, can be molded into complex shapes, and is chemically inert under many circumstances. Applications include aircraft, boats, automobiles, bath tubs and enclosures, swimming pools, hot tubs, septic tanks, water tanks, roofing, pipes, cladding, orthopedic casts, surfboards, and external door skins.
Other common names for fiberglass are glass-reinforced plastic (GRP), glass-fiber reinforced plastic (GFRP) or GFK (from German: Glasfaserverst?rkter Kunststoff). Because glass fiber itself is sometimes referred to as "fiberglass", the composite is also called fiberglass-reinforced plastic (FRP). This article will adopt the convention that "fiberglass" refers to the complete fiber-reinforced composite material, rather than only to the glass fiber within it.
The fiberglass mold process begins with an object known as the plug or buck. This is an exact representation of the object to be made. The plug can be made from a variety of materials, usually certain types of foam.
After the plug has been formed, it is sprayed with a mold release agent. The release agent will allow the mold to be separated from the plug once it is finished. The mold release agent is a special wax, and/or PVA (Polyvinyl alcohol). Polyvinyl alcohol, however, is said to have negative effects on the final mold's surface finish.
Once the plug has its release agent applied, gelcoat is applied with a roller, brush or specially-designed spray gun. The gelcoat is pigmented resin, and gives the mold surface a harder, more durable finish.
Once the release agent and gelcoat are applied, layers of fiberglass and resin are laid-up onto the surface. The fiberglass used will typically be identical to that which will be used in the final product.
In the laying-up process, a layer of fiberglass mat is applied, and resin is applied over it. A special roller is then used to remove air bubbles. Air bubbles, if left in the curing resin, would significantly reduce the strength of the finished mold. The fiberglass spray lay-up process is also used to produce molds, and can provide good filling of corners and cavities where a glass mat or weave may prove to be too stiff.
Once the final layers of fiberglass are applied to the mold, the resin is allowed to set up and cure. Wedges are then driven between the plug and the mold in order to separate the two.
Advanced techniques such as resin transfer molding are also used.