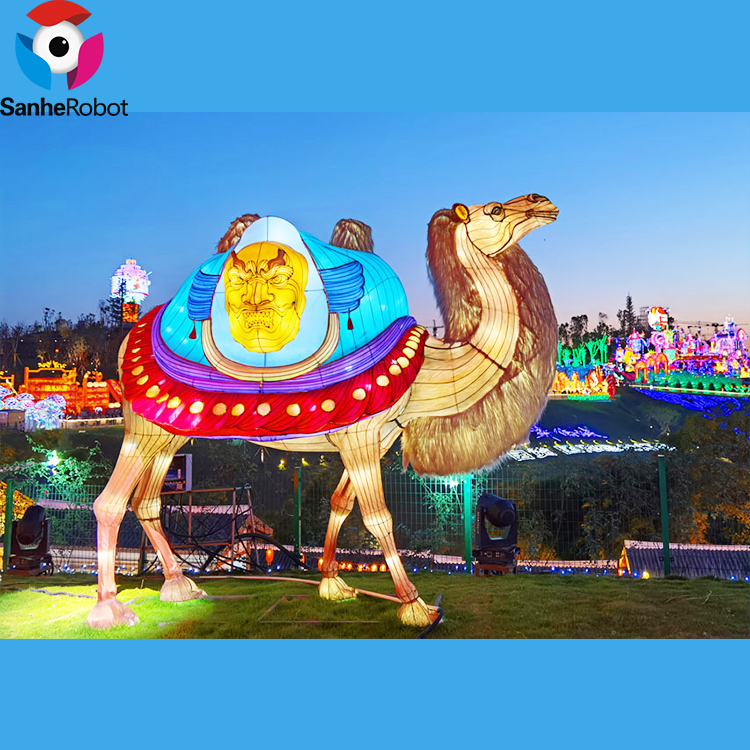 Product name:Chinese New Year Lantern Outdoor Animal Camel Lantern Silk Chinese Lantern
Customized animal lantern silk lantern is used for decoration street,outdoor playground,parks,party and so on.We can make it into different types for different festivals according to customers's needs.
Size: Customized size
Material: steel, silk cloth,energy saving light
Movement :1. Luminous 2. Music  (produce movement according to your demand)
Color: Color is optional
MOQ: one 40HQ container
Technics: 4 sets of movement programs,2 sound effect, movement setting adjustable
Control: Infrared sensor / remote control / coin box / button box
Power: 110/220V 50/60Hz
Plug: Euro plug / British Standard / SAA / C-UL / or depends on request
Usage: Festival decoration, outdoor and indoor playground, shopping mall decoration, garden decoration, theme park, Amusement park, museum, movie center, square, carnival, etc.
Remark:
1. Product length is measured by vertebra. Height is for reference, it is different for different modelling.
2. Other size is also available. from 1~50 m long. 3. Movement and function can be customized.
4. We can produce animatronics with brushless motor and pneumatic system.
5. We provide IP66 accessories for outdoor usage.