Attractive Visitors Wonderful Parade Float
Decoration For Sale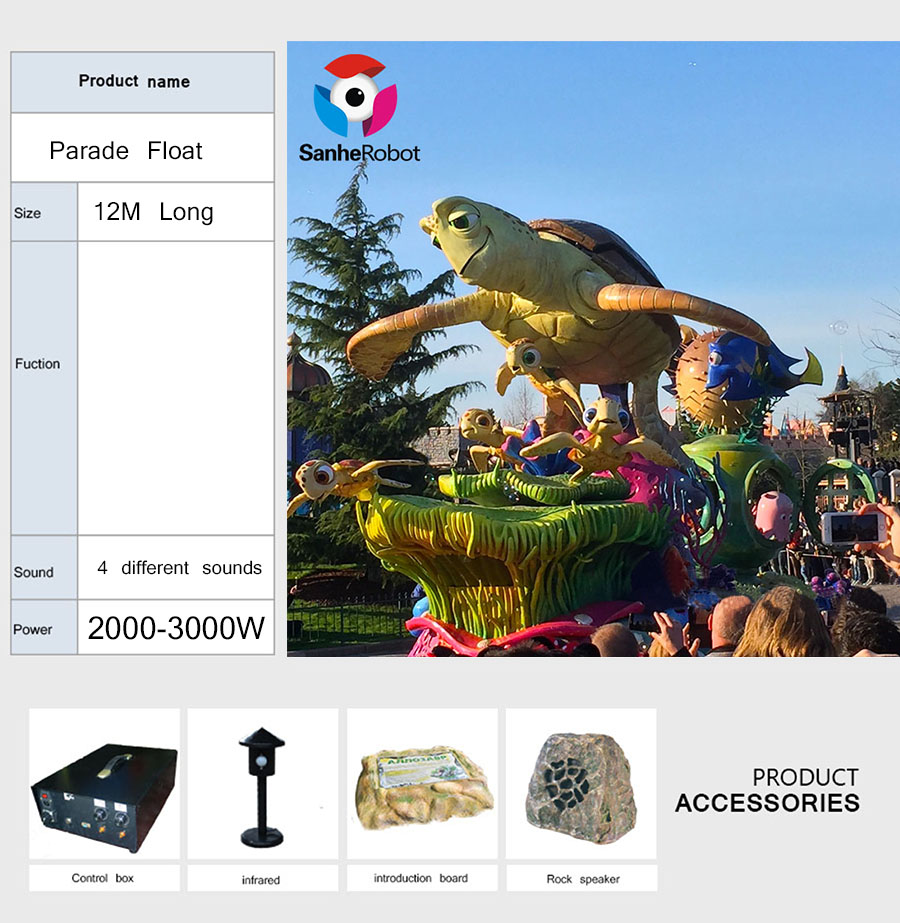 MORE INFORMATION
Input

AC 110/220V ,50-60HZ

Plug

Euro plug / British Standard / SAA / C-UL / or depends on request

Control mode

Automatic / Infrared / remote / coin / Button / Voice / Touch /

Temperature / shooting etc

Waterproofing grade

IP66

Working condition

Sunshine, rain, seaside, 0~50℃(32℉~82℉)

Optional function

Sound can be increased to 128 kinds

Smoke,/ water. / bleed / smell / change color / change lights / LED screen etc

interactive(Location tracking) / conversine(currently only Chinese)
AFTER-SALE SERVICE
| | |
| --- | --- |
| Service | Need be cut for shipping,fwill provide a detailed installation manual. |
| Warranty | We provide 2 years warranty for all of our antrimatronic models, the warranty pieriod starts from freight arrives at destination port. Our warranty covers motor, reducer, control box, etc. |
float for celebrating     festival celebrate props
custom animatronic  Custom amusement festival animatronics  outdoor amusement park exhibition model  custom parade float   parade float for events exhibition  animatronic parade float  mechanical parade float  life-size animatronic figure  made from silicon rubber life-size animatronic figure  customized life-size animatronic figure  customized life-size animatronic figure  customized halloween animatronic  carnival parade float
A float is a decorated platform, either built on a vehicle like a truck or towed behind one, which is a component of many festive parades, such as those of Carnival in Rio de Janeiro, the Carnival in S?o Paulo, the Carnival of Viareggio, the Maltese Carnival, the Macy's Thanksgiving Day Parade, the Key West Fantasy Fest parade, the Mardi Gras in New Orleans, the 500 Festival Parade in Indianapolis, the United States Presidential Inaugural Parade, and the Tournament of Roses Parade. For the latter event, floats are decorated entirely in flowers or other plant material
Parade floats were first introduced in the Middle Ages. Churches used pageant wagons as movable scenery for passion plays, and craftsmen with artisan guilds built pageant wagons for their specified craft. The wagons were pulled throughout the town, most notably during Corpus Christi in which up to 48 wagons were used, one for each play in the Corpus Christi cycle.
They are so named because the first floats were decorated barges on the River Thames for the Lord Mayor's Show.
The largest float ever exhibited in a parade was a 116-foot-long (35 m) entry in the 2012 Tournament of Roses Parade that featured Tillman the skateboarding bulldog (and some of his friends) surfing in an 80-foot-long (24 m) ocean of water. The water tank held over 6,600 US gallons (25,000 l; 5,500 imp gal) on a float weighing more than 100,000 pounds (45,000 kg). It broke the previous record for the longest single-chassis parade float, which was set in 2010 by the same sponsor.
The dogs trained for three months prior to the float's debut at the Tournament of Roses Parade on January 2, 2012. A specially designed "wave" machine was incorporated into the design of the float which created a wave every minute
The climax of the movie Animal House (1978) features the protagonists from the title fraternity surreptitiously launching their own float into a parade featuring legitimate entries from many of their rivals. The float, a giant decorated cake adorned with the words "Eat Me," later splits open to reveal the parade-destroying "Deathmobile" inside.
In Ferris Bueller's Day Off (1986) the titular character jumps onto a float during a parade and sings several karaoke numbers to the crowd.
In the 2011 film Rio the titular character uses the Rio Carnival as a decoy to smuggle his bird friends to the airport so they can escape.
Macy's Thanksgiving Day Parade features in several films including Miracle on 34th Street (1947) and its remakes as well as the 2016 version of Ghostbusters.