Professional Wildlife L=3m Animatronic Animal Life Size Large Elephant Statues
MORE INFORMATION
Input

AC 110/220V ,50-60HZ

Plug

Euro plug / British Standard / SAA / C-UL / or depends on request

Control mode

Automatic / Infrared / remote / coin / Button / Voice / Touch /

Temperature / shooting etc.

Waterproofing grade

IP66

Working condition

Sunshine, rain, seaside, 0~50℃(32℉~82℉)

Optional function

Sound can be increased to 128 kinds

Smoke,/ water. / bleed / smell / change color / change lights / LED screen etc

interactive(Location tracking) / conversine(currently only Chinese)
AFTER-SALE SERVICE
Service

Need be cut for shipping,fwill provide a detailed installation manual.

Warranty

We provide 2 years warranty for all of our antrimatronic models,

the warranty pieriod starts

from freight arrives at destination port. Our warranty covers motor,

reducer, control box, etc.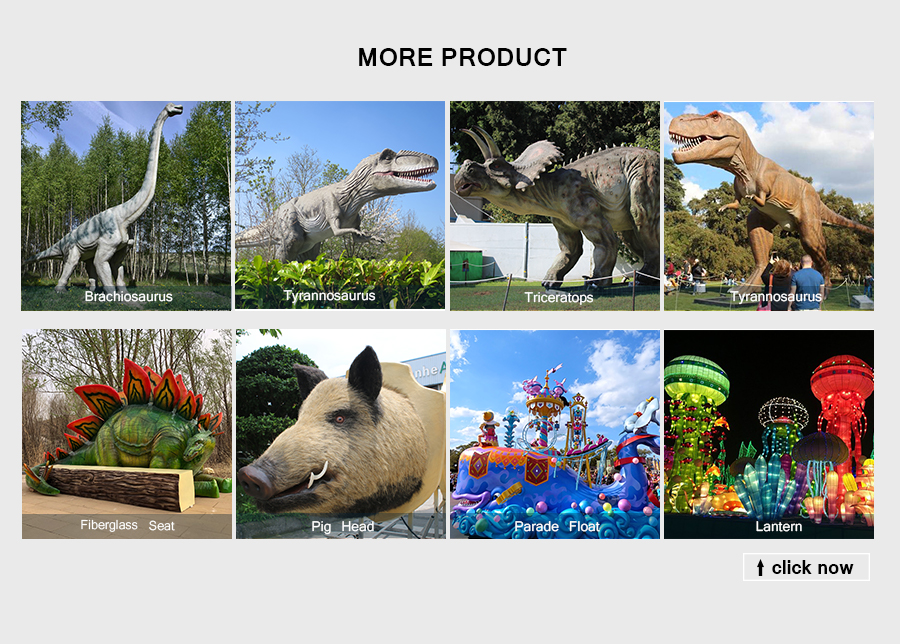 large animal statue      giant animatronic animal model      realist elephant
zoo park exhibition animal  life-size elephant  lifelike elephant   animatronic elephant   animatronic for sale  real elephant  realist animatronic elephant   vivid garden animal  animated life size animals  playground animal statue  theme park robotic animal  life size artificial animal  life size animal model animatronics model  playground animal statue  zoo park animatronic animal  simulation robot animals  animal model for park  animatronic life size animals   large size elephant large garden animal statue
Elephants are the largest existing land animals. Three species are currently recognised: the African bush elephant, the African forest elephant, and the Asian elephant. Elephantidae is the only surviving family of the order Proboscidea; extinct members include the mastodons. The family Elephantidae also contains several extinct groups, including the mammoths and straight-tusked elephants. African elephants have larger ears and concave backs, whereas Asian elephants have smaller ears, and convex or level backs. Distinctive features of all elephants include a long proboscis called a trunk, tusks, large ear flaps, massive legs, and tough but sensitive skin. The trunk is used for breathing, bringing food and water to the mouth, and grasping objects. Tusks, which are derived from the incisor teeth, serve both as weapons and as tools for moving objects and digging. The large ear flaps assist in maintaining a constant body temperature as well as in communication. The pillar-like legs carry their great weight.
Elephants are scattered throughout sub-Saharan Africa, South Asia, and Southeast Asia and are found in different habitats, including savannahs, forests, deserts, and marshes. They are herbivorous, and they stay near water when it is accessible. They are considered to be keystone species, due to their impact on their environments. Elephants have a fission–fusion society, in which multiple family groups come together to socialise. Females (cows) tend to live in family groups, which can consist of one female with her calves or several related females with offspring. The groups, which do not include bulls, are usually led by the oldest cow, known as the matriarch.
Males (bulls) leave their family groups when they reach puberty and may live alone or with other males. Adult bulls mostly interact with family groups when looking for a mate. They enter a state of increased testosterone and aggression known as musth, which helps them gain dominance over other males as well as reproductive success. Calves are the centre of attention in their family groups and rely on their mothers for as long as three years. Elephants can live up to 70 years in the wild. They communicate by touch, sight, smell, and sound; elephants use infrasound, and seismic communication over long distances. Elephant intelligence has been compared with that of primates and cetaceans. They appear to have self-awareness, and appear to show empathy for dying and dead family members.
We not only will try our best to offer excellent services to every customer, but also are ready to receive any suggestion offered by our customers for
Mounted Dinosaur Head
,
3d Dinosaur Molds
,
Prehistoric Ocean Animals
, Should further information be required, please contact us at any time!
---
China Wholesale Largest Prehistoric Animal Quotes Pricelist - Professional Wildlife L=3m Animatronic Animal Life Size Large Elephant Statues – Sanhe Detail:
---
Product detail pictures:
---
Related Product Guide:
Cooperation
---
Our business has been focusing on brand strategy. Customers' pleasure is our best advertising. We also offer OEM company for China Wholesale Largest Prehistoric Animal Quotes Pricelist - Professional Wildlife L=3m Animatronic Animal Life Size Large Elephant Statues – Sanhe , The product will supply to all over the world, such as: Belgium, European, Finland, We are sticking to excellent quality, competitive price and punctual delivery and better service, and sincerely hope to establish long-term good relationships and cooperation with our new and old business partners from all over the world. Sincerely welcome you to join us.