PRODUCT DESCRIPTION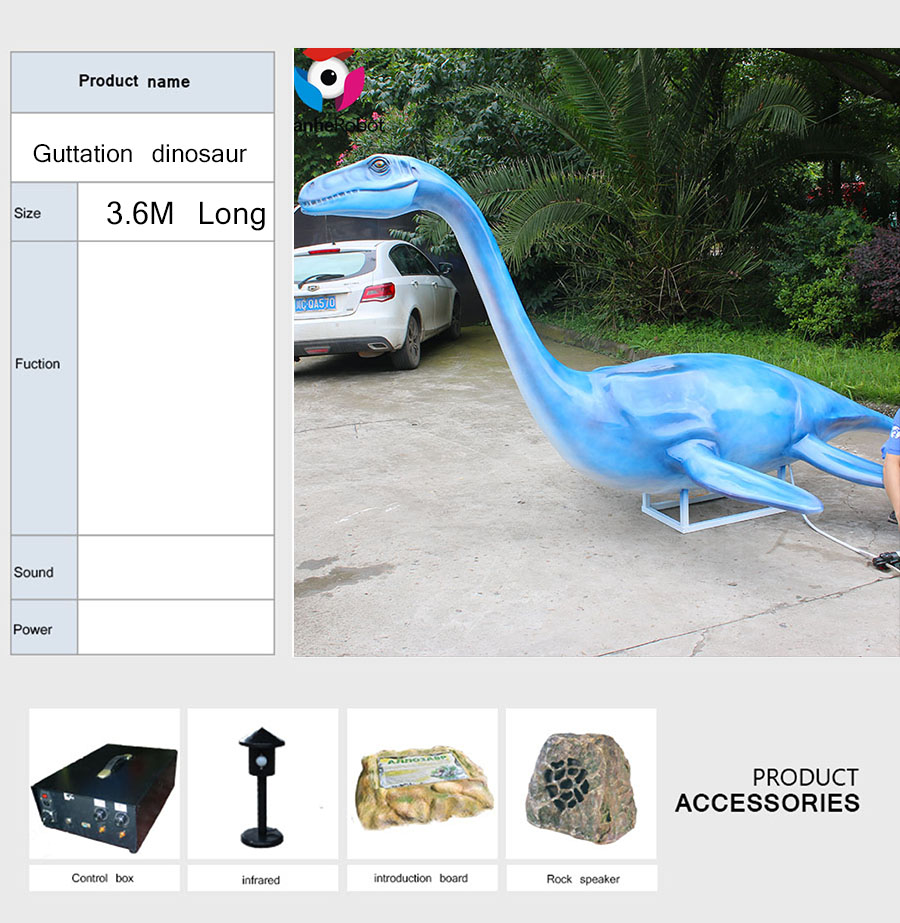 Product Name: Guttation dinosaur for outdoor decoration
This fiberglass plesiosaur is used for outdoor amusement park decoration
The length of this dinosaur is 3.6 meters
The size and color can be customized
This static dinosaur sculpture is suitable for taking photos of the amusement park,the surface of fiberglass products is very smooth,waterproof and sunscreen,it is an indispensable product type in amusement park.
Waterproofing grade: IP66
Working condition:Sunshine,rain,seaside
 In Stock:  We keep more than 30 sets dinosaurs in stock for choice.
 Packing : Bubble bags protect dinosaurs from damaging. PP film fix the bubble bags. Each product will be packed carefully and focus on protecting eyes and mouth. Control box will be put in aviation.
Shipping: Chongqing, Shenzhen, Shanghai, Qingdao, Guangzhou,etc. We accept land, air, sea transport and international multimodal transport.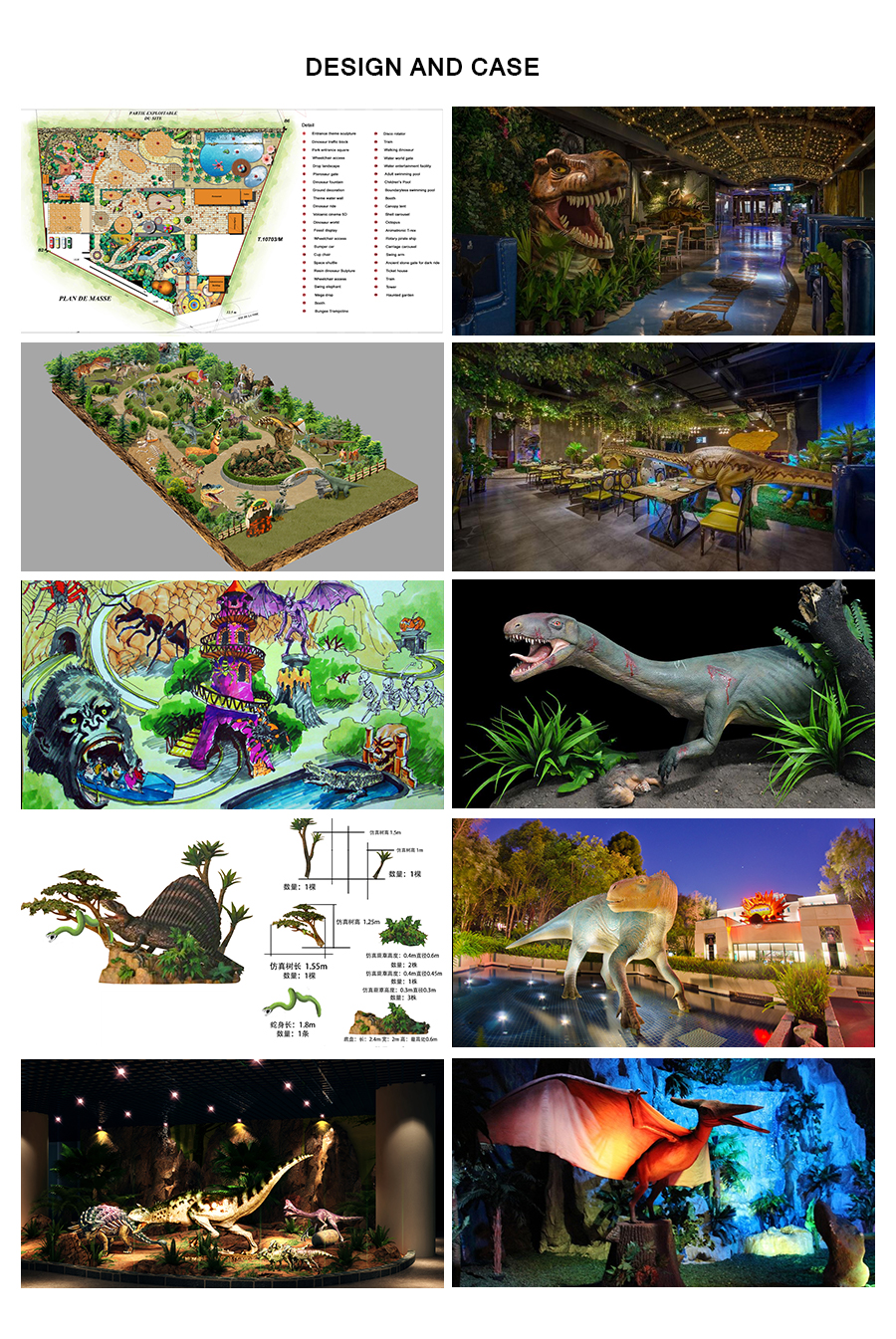 Mechanical design:We make a mechanical design for every dinosaur, providing them with a good frame. This makes sure that their air flows and other moving parts can operate without friction, massively improving the service life!
Dino posture & color Design:We design dinosaur postures, detailed features and colors before production begins. This ensures you get exactly what you want.
Graphic Design:You provide us photos and plans, we get back to you an entire dinosaur exhibition!
Exhibition Details Design:Exquisite details design show to customer the final exhibition scene.  We also provide plan design, dino facts design, advertisement design, etc.
COMPANY DESCRIPTION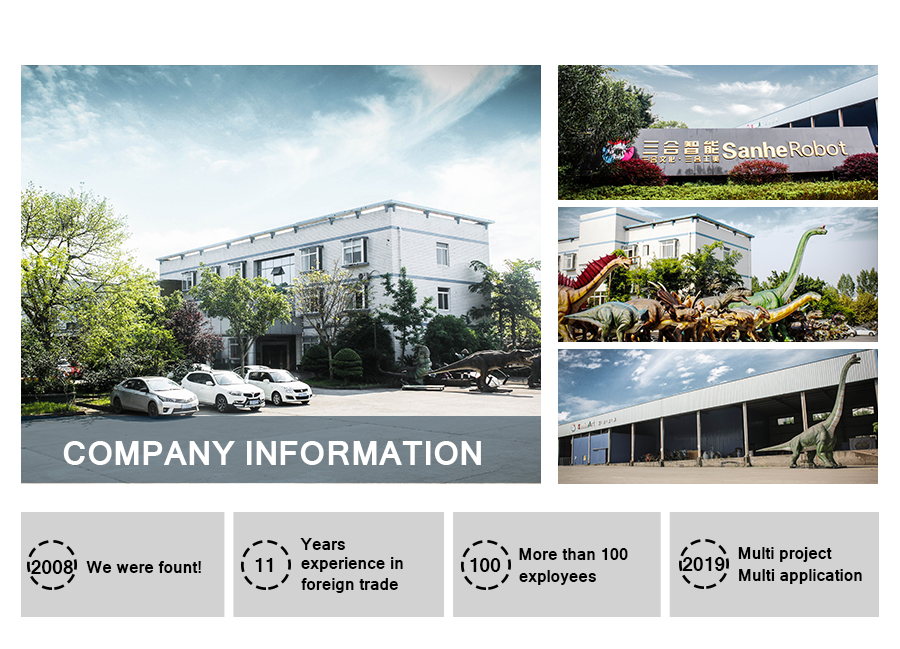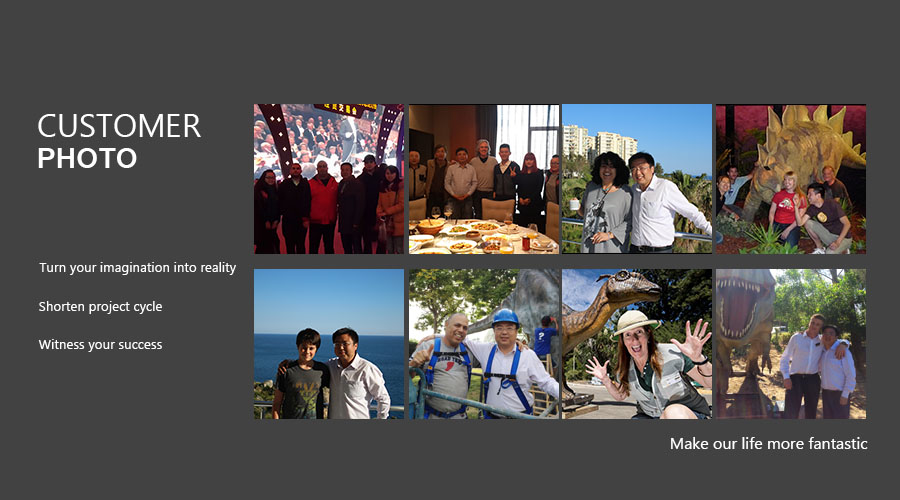 FAQ:
1.How about the installation?
We provide installation instructions
A.The small product contains all the parts needed for installation. Just follow the instructions and
connect them
B.We provide on-site installation service for large products. The product price includes personnel costs,Guests can only provide air tickets and accommodation
2.What about the after service? A.Two years of after-sales service.
B .Provide lifelong technical service
3.can you provide personalized and customized product?
A.Of course, the customer provides the design and requirements. We will make a detailed production plan and confirm with the customer.
B.If the customer cannot provide the finished design, they can also provide the preliminary idea of the product or scene they want to do. We provide the reference opinion and the production plan to help the customer achieve the expectation.
We can provide customized service in mechanical structure, control mode, special effect, material texture, function.Such as stage props, activity props, performance special effects costumes, parade floats, scene special effects.
4.How long is the duration of the production?
A.Regular products, such as dinosaurs, animals, insects, Marine life, have A production cycle of 30 to 60 days,It's different for depending on the amount.
B.Customized products need to consult with the salesman
5.why choose us?
A.we have our own production factory and 9 years of large project production experience
B.Stable and perfect company platform, strict quality and process management (OA & QCS)
C.Own r&d team (control system, mechanic, New material), and provide pre-sales technical support.
D.Provide product and scene plane and 3D design services
E. Multilingual service, barrier-free communication
F.24 hours Response to after-sales service
dino sculpture     fiberglass chair      fiberglass animal sculpture      fiberglass sculpture fiberglass decoration from zigong sanhe  life size statues fiberglass  outdoor playground decor  children playground equipment  artificial dino  amusement park ride dinosaur  fiberglass theme park decoration  fiberglass dinosaur suppliers  fiberglass statues outdoor  outdoor dinosaur statue  fiberglass dinosaur  fiberglass decoration for theme park  fiberglass decoration sculptures  fiberglass dinosaur statue  fiberglass sculpture for theme park  life-size dinosaur statues  outdoor static dinosaur  fiberglass dinosaur exhibits